Welcome to British shorthair cattery of red cats!
BRITISH RED*CZ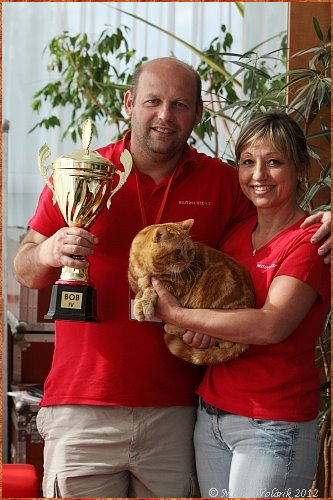 We are a small family cattery of British shorthair cats with a focus on the less usual red color. We live in Hostoun near Prague airport. We are members of FIFe and we breed only with pedigree.
Our cats are regularly vaccinated, de-wormed, tested, chipped ... Cats are tested for hereditary heart and kidney diseases with negative results. Our cats live with us freely throughout the house. We feed only with quality Royal Canin and Purina ProPlan pellets, beef and chicken meat, delicacies from Brit Care, Applaws, Ontario, Cosma and others.
We focus only on breeding red British cats with a pedigree. This guarantees transfer of the typical characteristics of the breed and minimizes the possibility of a genetic health complications. However, this does not oblige the owner to participate in exhibitions and breeding. If you buy a pedigree cat, you can be sure that your pet will appear in adulthood as you originally wanted and that his character will be appropriate for the breed. British cat is characterized with affectionate and kind nature but ranks among unobtrusive cast. The kittens are very playful. British shorthair cats go well with other pets and children but they are able to entertain themselves as well. Adult cats are less active and sleep a lot during day as they are waiting for their owners. So they are therefore suitable for people who are busy.
We try to ensure happy life for our pets and to breed healthy and affectionate kittens in the future. From our experience, we know, cats will return the love back.
"British Shorthair is a herd animal that has the exclusive right to their appearance. To breed the cat means that you have to try to achieve the improvement of the race and not a mere reproduction."
(Esther Verhoef-Verhallen ")